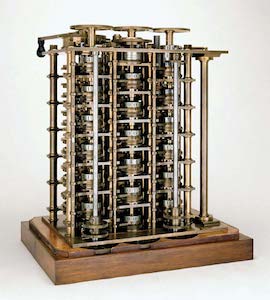 The Difference Engine. Image from britannica.com.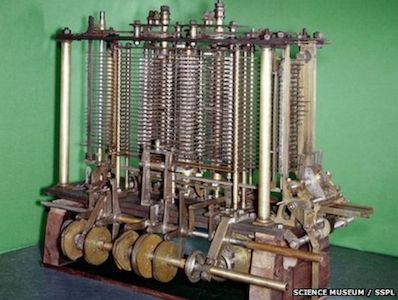 The Analytical Engine. Image from bbc.com.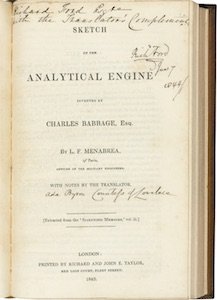 Menabrea's notes translated by Ada Lovelace.
Image from christies.com.
On June 5, 1833, then 17-year-old Ada met Charles Babbage. Babbage was Lucasian Professor of Mathematics at the University of Cambridge. Babbage had become fed up with people making mistakes in lengthy calculations, and his idea was to build an infallible steam-driven or hand-cranked calculating machine, called the difference engine. Ada was completely captivated by the concept.
In 1842 Ada Lovelace became aware of a work in French called Sketch of Charles Babbage's Analytical Engine, by Luigi Federico Menabrea, an engineer. Menabrea had listened to lectures by Babbage and written them up in French.
By this time, Babbage had moved on from the difference engine to a much higher level computer concept, the analytical engine, which would be capable of much more sophisticated calculations than the original difference engine. Indeed, the analytical engine concept was completely groundbreaking, and a work of incredible genius on Babbage's part; it was the world's first programmable computer. In modern terms, the analytical engine would be described as Turing-complete. It featured an arithmetic logic portion, control flow by loops and conditional branching, and separate memory – and all of this to be built using mechanical parts and powered by hand-cranking or steam!
---
Babbage's Analytical Machine featured an arithmetic logic portion, control flow by loops and conditional branching, and separate memory.
---
Ada Lovelace translated Menabrea's work into English. Babbage read her translation and asked her why she had not written such a paper herself, because she was more than capable. Perhaps she could now add her own thoughts to Menabrea's work? Ada Lovelace responded by adding notes to her translation of Menabrea's work. Her notes were three times more extensive than the original work. When her English translation was published, most of the work published was actually her own.
---
Lovelace's notes were three times more extensive than the Menabrea's original work.
---
She also added algebraic workings to the notes for how an analytical engine could perform calculations. Babbage himself took on one of the trickiest calculations –Bernoulli Numbers– and sent it to Ada to include in her work, but she detected and corrected what Babbage himself described as 'a grave error' in his working. In her notes, she included the world's first published computer algorithm – this was the Bernoulli number algorithm – and hence she is often cited as the world's first computer programmer. It would be fair to say, though, that Babbage contributed much of this section of her notes – precisely how much is the subject of academic debate.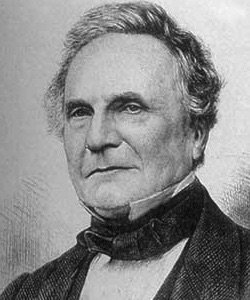 Charles Babbage (1791-1871),
Math Professor at Cambridge University.
Image from bibm@th.net.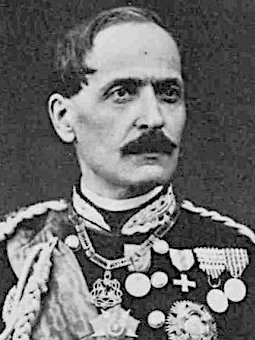 Luigi Menabrea (1809-1896),
Italian engineer.
Image from commons.wikimedia.org.
TEST YOURSELF
---
QUESTIONS
---
1. Who was her father?
2. What was her relationship with her mother like?
3. Why did her mother want her to study science? (Two reasons)
4. Who was her mentor and colleague?
5. What was the differential machine?
7. Who was Luigi Menabrea and why is he important in Ada's career?
8. What is the difference between the differential machine and the analytical machine?
9. In Babbage and Lovelace's work in common, what did Babbage research on?
10. What did Ada do with Babbage's work?