Space exploration
In 1958, Joshua Lederberg received the Nobel Prize and moved to Stanford University where he was the founder and chairman of the Department of Genetics. He collaborated with Frank Macfarlane Burnet to study viral antibodies. With the launching of Sputnik in 1957, Lederberg became concerned about the biological impact of space exploration. In a letter to the National Academies of Sciences, he outlined his concerns that extraterrestrial microbes might gain entry to Earth onboard spacecraft, causing catastrophic diseases. He also argued that, conversely, microbial contamination of manmade satellites and probes may obscure the search for extraterrestrial life. He advised quarantine for returning astronauts and equipment and sterilization of equipment prior to launch. Teaming up with Carl Sagan, his public advocacy for what he termed exobiology helped expand the role of biology in NASA. In the 1960s, he collaborated with Edward Feigenbaum in Stanford's computer science department to develop DENDRAL, an influential pioneer project in artificial intelligence (AI).
In 1978, he became the president of Rockefeller University, until he stepped down in 1990 and became professor-emeritus of molecular genetics and informatics at Rockefeller University, considering his extensive research and publications in these disciplines.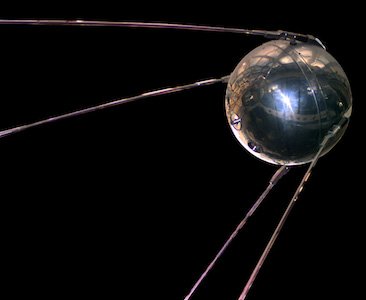 Sputnik I, launched by the Soviet Union in October 1957. Image from wikipedia.org
---
Lederberg was concerned that extraterrestrial microbes could cause catastrophic diseases on earth.
---

Rockefeller University campus, Chicago.
9. What is specialized transduction?
10. When dealing with space investigation, what was he concerned about?
11. What is astrobiology?
12. What did the DENDRAL project deal with?
13. What is the Gulf War Syndrome?
14. Apart from the Nobel Prize, what other awards did he receive?
15. Lederberg conducted research in several sciences. Which ones can you identify in the text?
16. What kind of relationship did he have with the U.S. Government?