I. SITUATIONS AT WORK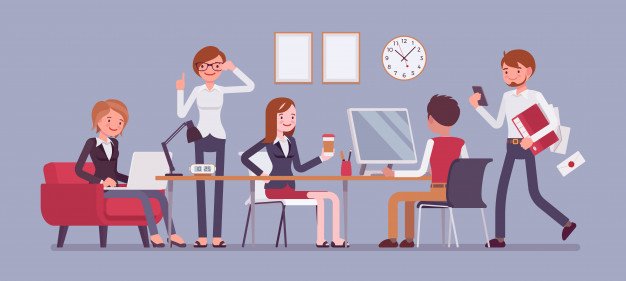 Source: freepik.com
A. Useful words and idioms in the professional world.
The words and phrases in bold will be useful to anyone learning English for work. Can you guess what they mean?
1. AT THE LAB
"Ladies and gentlemen, our experiment isn't working, I think we should call it a day."
2. AT A JOB INTERVIEW
"We are looking for a proactive laboratory technician for our new branch in Germany."
3. AT THE ENGINEERING LAB
"Our new device will never work if we keep cutting corners."
4. AT THE DESIGN ROOM
"The boss said he does not like our project, so we'll have to go back to the drawing board."
5. TO THE NEW GIRL/GUY IN THE LAB
"Don't hesitate to reach out to any of us if you have any questions."
6. IN A PRESS REVIEW
"As of yet, Pfizer doesn't have any plans to develop a new vaccine."
7. AT A BOARD MEETING
"We chose to upskill a junior researcher rather than hire someone senior straight away."
8. AT A PRESS CONFERENCE
"Post-Brexit procedures will need to be streamlined. At present too many trucks are getting stuck on borders and drivers are getting angry."
AT A MEETING
"Changing our strategy will not make a difference now, but we may benefit from positive reviews down the line."
10. AT A BOARD MEETING
"Our chemical factory will have to be more respectful with the environment going forward."
---
IN-CLASS
---
Do this exercise on your own, and then discuss your answers with your nearest classmate.
---
DISTANCE LEARNING
---
Send your guesses to your teacher, using the dedicated iDoceo Connect platform (only for groups specified above).
REMEMBER!!
The marks obtained in the online exercises will NOT be taken into account for your final mark. So don't be scared to make mistakes and answer all questions even if you're not 100% sure that your answers are correct.