EXERCISE A.
Script. Fill in the blanks.
WALTER: You just gonna sit there? (high-rise intonation) Look at this. Look at this. Kjeldahl-style (1) flask, 800 millilitres. Very rare. You got your usual paraphernalia, Griffin (2) ... your Erlenmeyer flask. But the pièce de résistance...(French word: the teacher speaking) a (3) boiling flask, 5000 millilitres. (he's proud and happy!)
JESSE: (nonchalant) I cook in one of those. A big one.
WALTER: One of these? (surprised) No, this is a (4) flask. You wouldn't cook in one of these.
JESSE: Yeah. I do. (determined)
WALTER: No, you don't. (authoritative) A (5) flask is for general (6) and (7) . You wouldn't apply (8) to a (9) flask. That's what a (10) flask is for. Did you learn nothing from my chemistry class? (high-rise intonation)
JESSE: No. You flunked me, remember? (bears him a grudge)
WALTER: No wonder. (ironic teacher)
JESSE: Prick! (insult) And let me tell you something else. This ain't (11) , okay? this is art. (affirmative)
WALTER: Ha ha... (laughs at him)
JESSE: (12) is art...and the shit I cook is the bomb (doesn't pronounce the b) so don't be telling me. (authoritative)
WALTER: The shit you cook is shit. I saw your setup. Ridiculous! You and I will not make garbage. We will produce a chemically (13) and stable (14) that performs as advertised. No (15) . No baby formula. No chili powder. (determined)
JESSE: Ah, no, no. Chili P's my signature. (defends himself)
WALTER: Not anymore! (slap)
JESSE: Yeah, well, we'll see about that. (doesn't want to give up) What the hell is this? (low-rise intonation)
WALTER: (16) equipment. We're also gonna have an (17) eye-wash station. These (18) and their fumes are (19) . In case you didn't know that. (argumentative)
JESSE: Well, you can dress up like a (20) if you want. Not me. (punch)
WORDS TO PAY ATTENTION TO:
"gonna" > going to
"ain't" > is not
"flunk somebody" > make him fail
"prick" > bastard
"garbage" > trash
---
TITRATION
---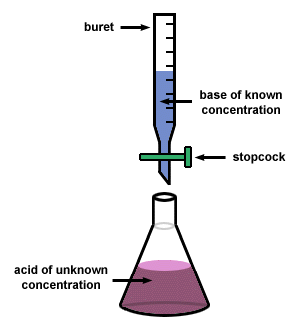 Image from sites.google.com
Titration is a common laboratory method of quantitative chemical analysis to determine the concentration of an identified analyte.
---
LANDMARK
---