§1. Welcome to Ridley Scott's nightmare. Resembling a Felliniesque journey into Dante's Inferno, with Mickey Spillane in tow, Blade Runner is a cold, bold, bizarre and mesmerizing futuristic detective thriller that unites the British-born director of Alien with new box-office dynamo Harrison Ford for results that are as impressive as any film that's exploded through a projector so far this year.
§2. Blade Runner is not an easy film to watch comfortably, or categorize smoothly. It possesses a size that is awesome, sound and visual accompaniments that blasts the senses and a pessimistic attitude that would do justice to the hellish worlds Josef von Sternberg investigated in his Germanic and Paramount projects in the early 1930s.
§3. Set 37 years in the future in 2019 Los Angeles, a time and place within the potential reach of many of today's moviegoers, Scott doesn't promise much to anticipate. In his view, the City of Angels has become a ghoulish circus of towering, pyramid-like buildings, flying cars, space stations and a constant barrage of TV commercial hype writhing on the sides of monstrous buildings and from blimps endlessly careening through an air that's dense with searchlights, smoke, smog and dust. Rain is a constant.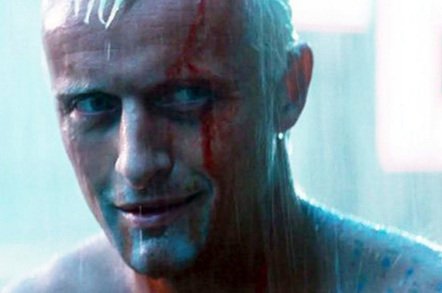 Roy Batty (Rutger Hauer),
a rebel replicant.
Image credit: Qwoted
§4. When four "replicants" manage to return to earth, Ford is enlisted by the police to find them, and terminate them. Blade Runner follows Ford's trail through the L.A. jungles as he accomplishes his mission, namely the destruction of Joanna Cassidy, Brion James, Daryl Hannah and Rutger Hauer. Adding to his problem is the fact that Sean Young, with whom he is having a romantic alliance, may also be a dreaded "replicant."
§5. It all adds up to a virtual feast for sci-fi devotees, not to mention audiences who appreciate decidedly off-beat themes and substance worth debate. For them all, Blade Runner will require more than one visit to get all the implications.
§6. The picture is a triumph for Scott, who wallops over the "B.R." thesis and atmosphere with a strong sense of style, and relentlessness. He is aided immeasurably by Lawrence G. Paull's breathtaking production design and the strong special photographic and visual effects supervised by Douglas Trumbull, Richard Yuricich and David Dryer, Jordan Cronenweth's cinematography is also noteworthy and underneath it all, eerie music by Vangelis, often emphasizing a wailing saxophone, makes as much of an impact as did his score for the decidedly different cup of tea, Chariots of Fire.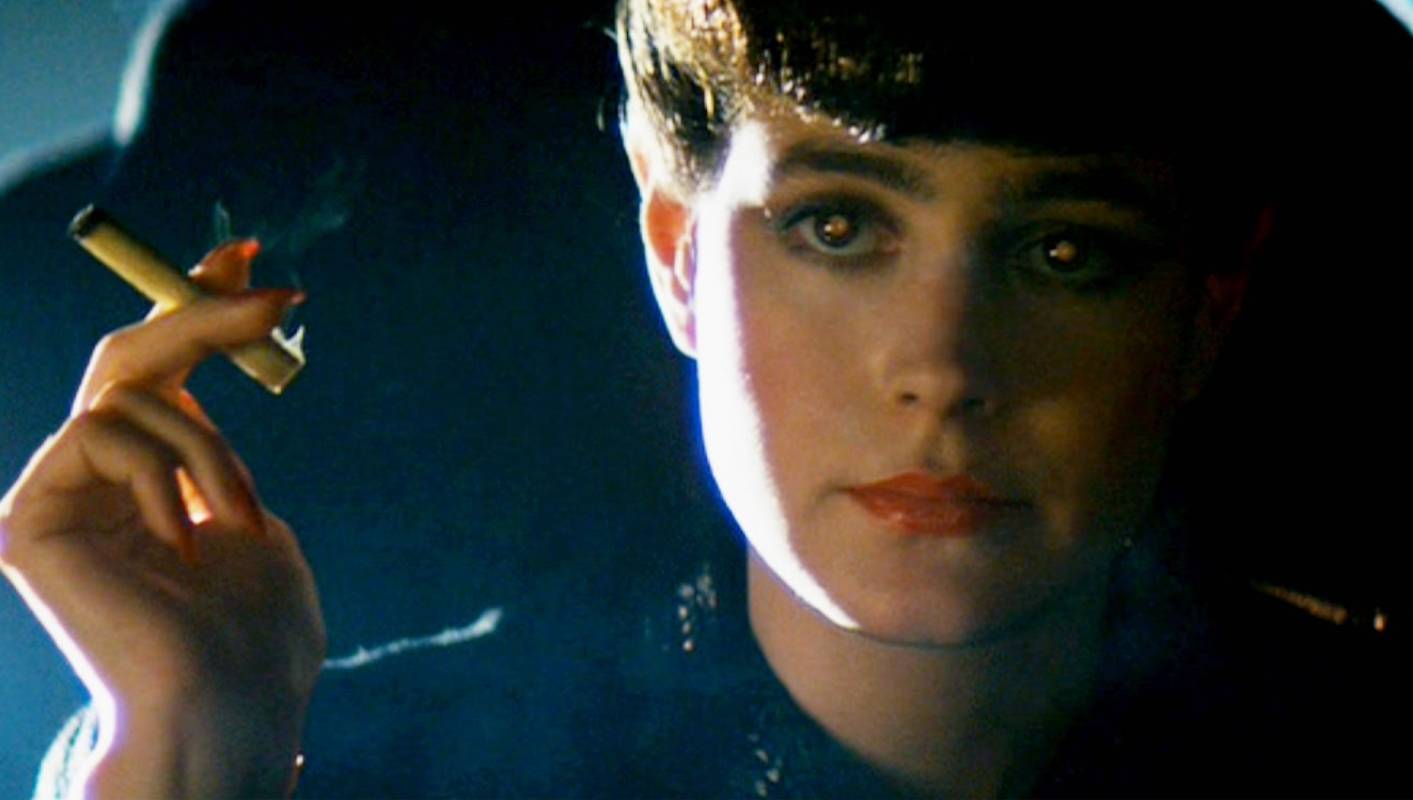 Rachael (Sean Young), a replicant.
Image credit: stuff.co.nz
§7. The acting is also first-line, headed by Ford, who is perfectly cast as the scruffy hunter, a character he endows with enough personality and vulnerability to create all the necessary audience identification and caring. Hauer again makes a supreme villain, at once a symbol of physical perfection and twinkling evil. William Sanderson is also a standout as a mousy genetic designer, his cavernous apartment filled with living dolls of his creation. Young, Hannah and Cassidy nicely hold up the feminine end of the proceedings.
§8. Down the line, the technical and creative support is expert, including costumes designed by Charles Knode and Michael Kaplan, editing supervised by Terry Rawlings, art direction by David Snyder, just for starters. They've all contributed to a piece of weird movie magic that's going to become one of 1982's most discussed of the big guns.
Robert Osborne