a. How to lift fingerprints
Use this worksheet to guide you through a video demonstration of how to lift fingerprints. This sheet will help you to understand and then explain how experts present their forensic techniques.
The ideal surface for fingerprint lifting is...
---
Level 1 – Plexiglass: Say whether the following sentences are true or false.
---
a. You have to put a lot of powder on the object straight away.
b. The best movement to fully develop the print depends on the pattern of the fingerprint.
c. The tape used to lift fingerprints is the same as packing tape.
d. When lifting the print, if there is any texture in the fingerprint, you want to move your finger across the print as quickly as possible to avoid destroying the texture.
e. Once the tape has been transferred to the acetate, you have to make sure to remove any air bubbles that may be there.
---
Level 2 – Mikrosil
---
a. Why are they using black powder instead of white powder?
b. What is black powder made of?
c. In which situations is Mikrosil used?
d. What kind of impression did they take with Mikrosil in the break-in case Matt Steiner mentions?
e. Once the fingerprint has been recovered using Mikrosil, what would crime scene technicians do with it?
---
Level 3 – Curved bottle: Complete the transcript
---
STEINER: This bottle's curved, which is difficult to begin with. Let's make it even more difficult. Let's say it rained the night before.
MATSAKIS: OK
STEINER: So, fingerprints are (1) mostly of water. The remaining percentage of fingerprints are minerals, salts (2) and lipids. So if it rained, that 98% of the fingerprint is gone, but what remains could be the (3) part of the fingerprint.
MATSAKIS: Got it, so like the oils that were on my finger.
STEINER: Right, the sebaceous glands that you have are (4) oils and there's products which will react with those lipids.
MATSAKIS: And make them (5) ?
STEINER: Yeah, so it's a suspended solution of molybdenum disulfide that will react with the fats in your fingerprint.
MATSAKIS: So is there any (6) here that I should be aware of?
STEINER: So start at the top and work your way across and down, and we'll completely (7) this in it. And you can actually see where it's beading off. You can see that reaction between the two.
MATSAKIS: Yeah. I can see a fingerprint right there, totally.
STEINER: OK, so what we're seeing is, just like water would bead off of oil, this product is beading off the areas that we have fingerprints. We're looking for that reaction. And when we want to stop that reaction, we want to clean it with some water, so just spray, spray, spray. OK.
MATSAKIS: Wow, that's crazy, it just stays right on there. How often do you use this (6) ?
STEINER: So, it's good for surfaces that are wet. It also works really well on greasy surfaces, so if I had a crime scene in a kitchen, and there's a layer of (8) on everything, if you try to dust it, you're just going to spread that grease around. So what I want you to do is, the same (6) we used before to lift it, you're going to do the same thing, just notice that it's going to be a little more difficult.
MATSAKIS: Ah.
STEINER: That's right.
MATSAKIS: Ok, I think I see it on there, a little bit, maybe?
STEINER: A little bit.
MATSAKIS: OK.
STEINER: I think you could have done better.
MATSAKIS: Ok, well...
STEINER: Again, let's just clean that off a bit.
MATSAKIS: Are there situations where you have to hurry at a crime scene?
STEINER: Yeah, I mean, if this is outside and it's (9) raining, and there's no way that we can (10) that, we may have to lift it right away.
MATSAKIS: Like, (11) or something that was outside.
STEINER: So then we would take this print and we'd transfer it to a card.
MATSAKIS: Would you, like, draw a picture of the bottle?
STEINER: Yeah, absolutely. We'd draw a (12) of the bottle, and, like, (13) or draw an arrow to where we got the print from.
---
Level 4 – Bloody fingerprint
---
a. Complete the following paragraph to explain the difference between patent, latent, and plastic prints.
Fingerprints can be patent, latent, or plastic. Patent means that the fingerprint is apparent, because the finger has touched something like grease or blood. Latent means that the fingerprint is and needs to be developed by the forensic expert to be seen. Plastic means that the fingerprint is like wax or soap and can be easily seen.
b. Which of the following is true?
c. What expression can you use in English to refer to evidence which is very incriminating?
This type of evidence is evidence.
d. What does the chemical they're using contain and how does it react with blood?
e. Once the patterns have been developed using leucocrystal violet, what would crime scene technicians do?
f. How are fingerprints then analyzed?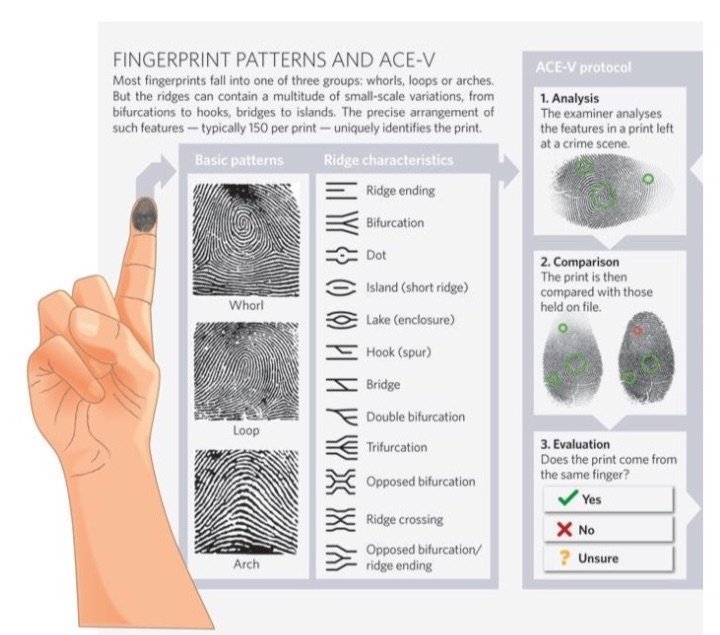 From the article "The Fine Print" published in Nature 464, 344-346 (2010).