III. Biased expert witnesses
But are experts infallible? Do personal beliefs influence their objectivity? Check the following real case, an example of unprofessional testimony in court.
Child abuse sceptic gave evidence as an expert witness in 500 cases
Frances Gibb, Legal Editor; December 10 2018, The Times
Read the text and answer the following questions.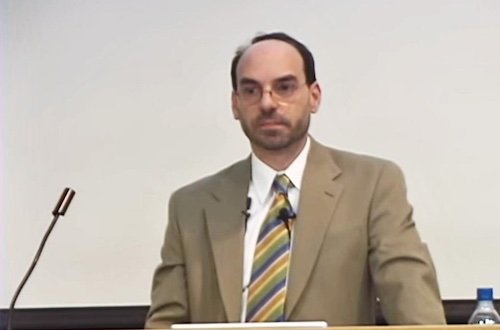 Image credit: The Times
A controversial opponent of vaccination and sceptic about child abuse has given evidence in British trials as calls mount for curbs on incompetent expert witnesses.
David Ayoub, an American radiologist, has given evidence in three child abuse trials in Britain including one this year in which the judge delivered a scathing condemnation of his expertise, criticising his approach as "shot through with the dogma that child abuse is overdiagnosed".
The case is a stark illustration of the lack of controls or regulation of expert witnesess, who give key evidence in criminal and civil trials.
It also comes amid concern over the standards of expert witnesses who are "hired guns", arguing the case for the side instructing them rather than giving impartial evidence to the court. The 900-member Expert Witness Institute is calling for a central register of accredited experts as a safeguard. Sandy Mackay, a governor at the institute and an expert witness in architecture, said: "A central register is something we feel is needed — a body of people recognised as being competent —although always— retaining the possibility for lawyers to instruct a specialist not on the register."
He added that the rise in people acting without lawyers heightened the risk of incompetent experts being used.
A recent survey carried out for The Times with Bond Solon Training, a leading trainer of expert witnesses, found that 43 per cent of several hundred experts had come across a witness in the past year whom they considered to be a "hired gun".
Mark Solon, director of Bond Solon, said: "Both incompetent and rogue expert witnesses can create disastrous results in trials. All professional bodies must have proper standards and regulations for members who do expert witness work. Expert evidence is too important to be left to amateurs."
Dr Ayoub, 59, has received widespread attention in the US press. The New Yorker described how he used to be active in the anti-vaccination movement but was "now challenging mainstream science again —as an expert witness for accused child abusers".
He gave evidence in the case of a child from St Helens, Merseyside, who, when five months old, was found to have 26 fractures and was the subject of a care order, under which he was living with an aunt.
The mother was seeking to have the care order discharged and Dr Ayoub, who is based in Springfield, Illinois, took the view that the child suffered from rickets. Both parents denied that they had caused the child's injuries.
Lord Justice Jackson, who dismissed the mother's application, pointed out that Dr Ayoub, whose clinical work did not include infants, had given evidence in about 500 cases. In every report Dr Ayoub had written, the judge said, he expressed the view that the child in question suffered from metabolic bone disorder.
The judge added: "His approach is shot through with the dogma that child abuse is over-diagnosed. It does not matter for this purpose whether he is right or wrong. The expert with a scientific prejudice may perform a service to science by asking questions that challenge orthodoxy but be unsuited to be an expert witness, a role that requires objectivity when giving answers." Dr Ayoub was not available for comment.